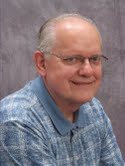 PATRICK DONALD HARRIS, PH.D
Pat (as he was known in those days) graduated in 1958 from Lathrop High School as Valedictorian of his class. For three years he was a mainstay on the football; basketball and track teams. He was integral in LHS winning the Conference Championships in both basketball and track in 1958 and was a member of the track team that won the State Indoor Championship in 1958. In his era at LHS he was an inspiration to all who knew him.
After obtaining two engineering degrees from Missouri University, Pat entered Northwestern University in Chicago where he obtained his doctorate degree in Basic Medical Sciences. Dr. Harris then spent 4 years at Indiana University in medical research before returning to MU where he spent 14 years as a faculty member in the Medical School. Presently Dr. Harris is the retired Chairman of the Medical School at the University of Louisville and is a part-time professor.
Dr. Harris is also the founder of Micro-Med a Louisville based company that manufactures digital imaging systems for eye doctors and which, in 2007, was named as one of the fastest growing companies in the USA.
Dr. Harris has been married for 51 years to Jean Harris (West) from Gower, has three adult children and lives with his wife in Louisville.
Dr. Harris has been academically involved in the areas of Physiology and Biophysics since 1968 at MU, Dalton Research Center, California Institute of Technology in Pasadena, CA, and the University of Louisville in Louisville, KY.
His interest and knowledge has led to his research management experience with the National Heart, Lung, and Blood Institute, American Physiological Society, Microcirculatory Society, American Heart Association, Kentucky Heart Association Affiliate, Engineering in Medicine and biology Group and U.S. Catheter and Instrument Corp New York.
His massive experience has also led him to management board experience. He was president, CEO, and Chairman of the Board of Directors, Micro-Med, Inc. Louisville, Kentucky; and has served on the following boards of directors: Southwest Council of Optometry, Louisville Heart and Lung Institute, Athletic association, Medical School Fund, Industrial Board of Advisors, Speed Engineering School in Louisville, KY, American Heart Association, Intercollegiate Athletics for MU, Carrington Realty, Inc. Columbia, Mo., and Santa Fe Acres, Inc. Boonville, Mo.
He has been president of the Fifth World Congress for Microcirculation, president of the American Microcirculatory Society, International Advisory Committee, Asian Union for Microcirculation, Advisor, 1st & 2nd Asian Congress for Microcirculation, Microcirculation Society Award, 4th European Conference on Microcirculation, International Who's" Who in Medicine and Biomedical Engineering, the California Institute of Technology Award, elected member of the U.S. National Research Council, Commission on Life Sciences and National Committee, International Union of Physiological Sciences, National Institutes of Health Awards, and many more.
It is with great honor that we recognize Dr. Patrick Harris.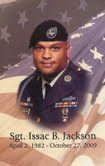 SGT. ISSAC BRANDON JACKSON
Issac was born in St. Joseph, Missouri on April 2, 1982 to Christal and John Jackson. He graduated from Lathrop High School in 2001. While in high school Issac was a wrestler, in which he received an athletic letter.
In May, 2004 Issac joined the United States Army and was assigned to Fort Benning, Georgia for his basic training and AIT. He met his future wife, Kristen Northrup while attending Lathrop First Baptist Church in April 2004. In October, 2004 Kristen and Issac became engaged and married December 18, 2004. Their son Enoch was born April 10, 2008 and their daughter Eden in December of 2009.
Issac served his first tour of duty with the 3rd Brigade, 10th Mountain Division 1-32nd Infantry Battalion out of Fort Drum, New York from March 2006 to June 2007. He began serving his second tour in June 2009 in Kandahar, Afghanistan, in the Striker 5th Brigade out of Fort Lewis, Washington with the 1-16th Infantry Battalion.
Issac was killed in action October 27, 2009 while supporting combat operations in Kandahar during Operation Enduring Freedom. Issac gave the ultimate contribution to society, his life, to protect the safety of his fellow Americans. We are proud to honor, Seargent Issac Jackson.