Regular LR2 Board Meeting tonight at 7:00 pm. Return to School Safely Plan, Employee Manual and Health Program Evaluation on the agenda. Full agenda here:
https://tinyurl.com/3usmpya4
#RollMules

Attention to all 9th, 10th, and 11th grade parents. Erica Coats, LMS social studies teacher, is organizing a student trip to Greece for the summer of 2024. If you are interested in this trip for your child please click on the following link.
https://5il.co/1k7r2

Section 167.902 RSMo, requires that the department of economic development shall annually identify occupations in which a critical need or shortage of trained personnel exists in the labor markets in this state. Additionally, each high school shall provide its students with the information before November 1st of every school year. Click the following link for a direct link to the FY24 High Demand Occupations list. BTW, this was also emailed to all the high school students.
https://5il.co/1juzs

Thank You!! to our 2022 Mules Pack Meals Platinum Level Sponsors: D&D Blodgett, Mitchell Tree Company, Goppert Bank, Jackson Seed and Farm Supply, Claypool Realty, LLC and MidAmerican Beef Co.

Thank You!! to our 2022 Mules Pack Meals Silver Sponsors: Professional Ag Services!

Thank You!! to our 2022 Mules Pack Meals Bronze Sponsors: Syd Thummel, Hamilton Bank, and the Mule Stop!

Dear local veterans, The Lathrop High School staff and students would like to invite you to our annual Veterans Day breakfast. Click the link for more information.
https://5il.co/1jog9

The Lathrop R-II School Board is pleased to announce that Dr. Adam Willard will be our next Superintendent. Press Release:
https://5il.co/1jmq7
#RollMules

The LR2 School Board will be meeting in closed session tonight, Tuesday night and Wednesday night to review applications and interview candidates for the LR2 Superintendent for the 2023-2024 School Year. These sessions are not open to the public. #RollMules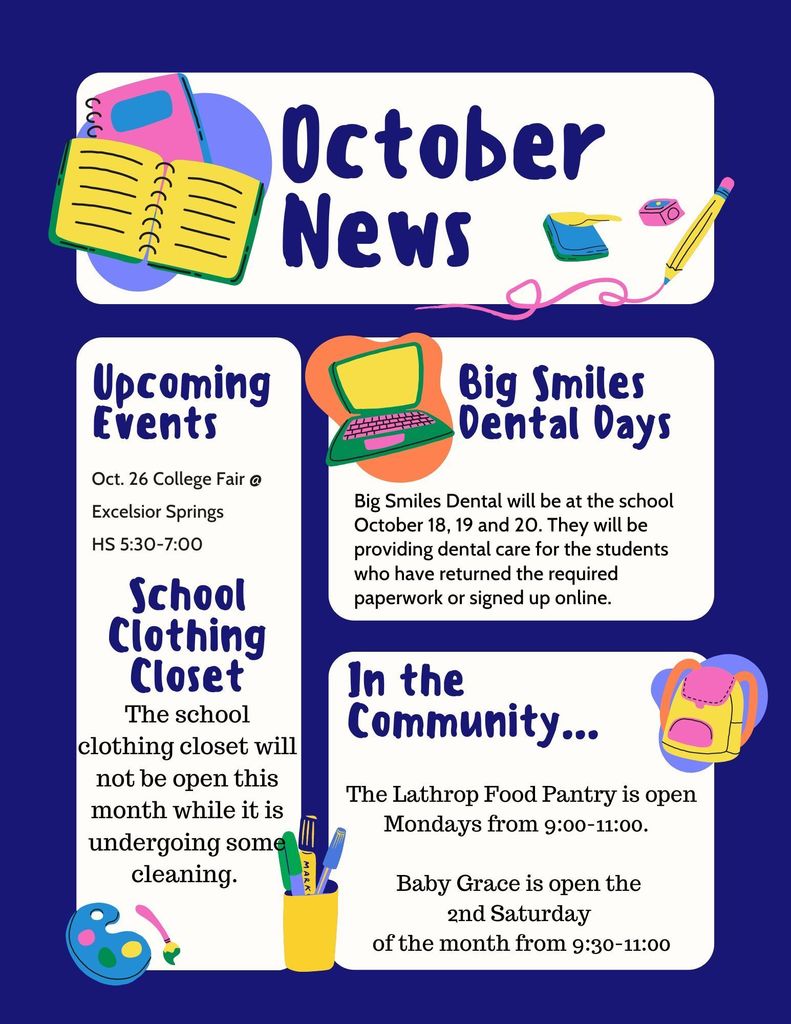 LR2 Board Meets tonight at 7 pm. Career Ladder Plan and Health Insurance are on the agenda. Full agenda here:
https://tinyurl.com/3usmpya4
#RollMules

The K-12 Pep Assembly will be @ Lathrop Middle School. It will start approx 11:45. Parents are welcome keep in mind bleachers are reserved for students. You can stand along north & south wall or bring lawn chair. HS students will be dismissed at 11:25 and if a student needs a ride to the assembly we will run 3 buses to take them to the middle school. I advise students that drive, to car pool as parking is limited. HS Parents, the bus routes will run from the elementary school as normal at about 12:45. Students will be expected to walk to the elementary to board their bus. If you have questions please call your child's building prior to 11:00. Thank you, Mr. Bowers, LHS Principal.

LR2 has an immediate need for 2 night custodians. Start at $11.50/hr plus health insurance. Apply online here:
https://tinyurl.com/5n9yuk3a
or call 816-710-6110 for more information. #RollMules

Students, If you are taking a college course through MCC, your bill should be coming in the mail soon. College English and College History should be $355.50 and you can pay online, over the phone or mail a check to MCC. YOUR BILL IS DUE BY OCT 14TH. If you are taking a class through MWSU, you will make your payments through your MWSU account. They are charging $95 per credit hour this year and they have a first time student fee of $15 and lab fees are $25. YOUR PAYMENT IS DUE NOV 1ST. If you are taking a DC class through Launch, you will have to make your payment through the college your class is with (UMSL, UMKC, Mo St, etc.). Most classes I've seen are $210 for the whole course. PLEASE RELAY THIS INFORMATION TO YOUR PARENTS/GUARDIANS. YOU DO NOT MAKE PAYMENTS TO LATHROP HIGH SCHOOL, YOUR PAYMENT HAS TO BE MADE TO THE SCHOOL YOU ARE GETTING THE COLLEGE CREDITS FROM. If you have any questions or concerns, please let me know. Mr. Hihath

Dear 9th Grade Students, I wanted to pass along an opportunity that you may be eligible for called the My Missouri "MyMO" Scholarship Promise Program. MyMO is a scholarship promise program intended to place 9th grade students from low-income backgrounds on a successful path to prepare, save and plan for college. Click the link for more info. Application will open October 1, 2022 and will close April 15 or when funding is depleted whichever comes first. Check out their website: moslf.org. If you have questions, please reach out directly to Alexandria Miller, Program Manager for the Missouri Scholarship & Loan Foundation, at
Alexandria.miller@moslf.org
.
https://5il.co/1i23p

LR2's Internet provider (not GRM) is experiencing technical issues at this time. We have no Internet and no phone services to any of our facilities. Call me at 816-659-2330 if you are in need of immediate assistance. Sorry! - Mr. Fine.

Sorry everyone. Board meeting is Wednesday the 14th.

The regular monthly LR2 Board Meeting is Wednesday, September 12 at 6:30 in the board room. New Supt. search, budget updates, board policies, handbooks Career Ladder options and more. Full agenda here:
https://tinyurl.com/3usmpya4

Tonight is the SPIN! Senior Parent Information Night! Bring your senior with you!!! The meet & greet with area college reps & military recruiters will be from 5:30-6. The meeting starts @ 6:00 & will conclude with a meeting led by Wendy Partain. See you tonight.

Parents, we would like to introduce a new opportunity at LHS for your child. The Ready for Success Guest Speaker Series is a monthly Counseling Center event featuring a guest speaker that will be sharing information and firsthand experience about a career. Students were sent an email with a link to sign up for our first speaker. Please talk to your child and see if this might be something they are interested in listening to. If so, tell them to find the email from our academic advisor, Susan Rupert and fill out the google form. When: Tuesday, 9/6, Students: 9-12. Guest: 2ndLt Wyatt Bowers Topic: He will be sharing information and his experience with NROTC at KU and his current training as a USMC pilot at the Naval Base in Pensacola Beach, Florida.